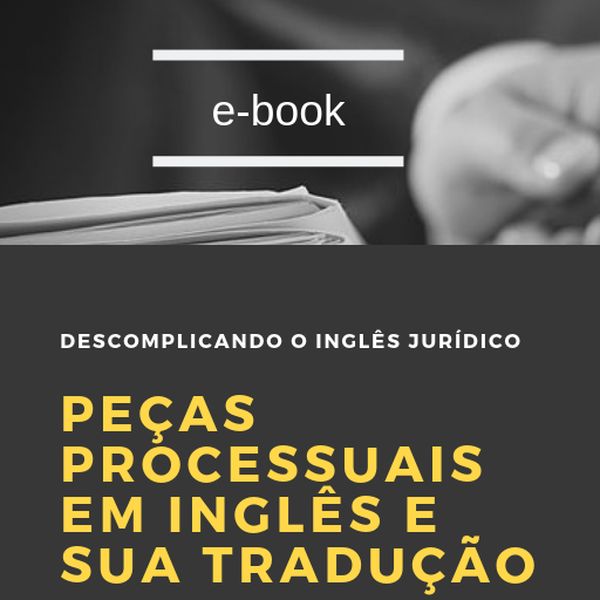 O Descomplicando o Inglês Jurídico surgiu sem nenhuma pretensão: transmitir conhecimento sobre termos de inglês jurídico e direito comparado, que podem ser um pesadelo àqueles que não dedicam sua carreira a estudar essas matérias.
Ao longo dos anos, fui amadurecendo essa ideia até que ela se transformou em uma empresa que oferece cursos aos operadores do direito (advogados, juízes, promotores) e a tradutores e intérpretes que buscam a excelência profissional na área jurídica.
Este e-book teve origem na necessidade dos meus alunos de entenderem o processo civil norte-americano um pouco mais de perto, para conseguirem fazer boas traduções, no caso dos tradutores e intérpretes, e se comunicarem com clareza, no caso dos juristas.
Para fins didáticos, as peças aqui apresentadas contam uma história: Matthew Bryson, o autor, processa a empresa Carrington Display, pois alega que teve seus ganhos de vendedor comissionado reduzidos a partir do momento em que sua irmã, Susan, que também trabalhou na empresa, processou a Carrington Display, por sentir-se discriminada por ser mulher. O autor requer uma indenização da ré.
Você vai acompanhar as dezesseis peças em que desenrolam essa história: engagement letter, demand letter, complaint, answer, client letter, interrogatories, requests for production, requests for admission, opposing counsel letter, motion for continuance of hearing, motion for summary judgement, response, business records affidavit, affidavit about the facts of the case, mediation statement, jury instruction.
Este e-book contém 4 módulos:
Peças processuais em inglês
Caderno de exercícios
Tradução sugerida
Glossário
a sugestão é que você primeiro leia as petições na língua original, o inglês, para que comece a ter familiaridade com a linguagem técnico-jurídica norte-americana.
Depois, vá ao caderno de exercícios e traduza as peças.
Logo após, confira sua tradução com as sugestões do terceiro módulo.
Finalmente, consulte o glossário.