Google Discover: What it is and how do you advertise your business on it?
Google Discover is a tool targeted at mobile devices that displays personalized info in a feed. Learn more about it and find out how it can help your brand generate organic traffic, clicks, and sales.
When it comes to content production and SEO optimization, many professionals and entrepreneurs spend a lot of time and energy focusing only on positioning their websites in search results.
Of course, SERP, as Google's results page is known, is a great source of organic traffic. But, you should know that this isn't the only way to generate visits at your disposal.
A tool that's little known among many professionals, but that's extremely important, is Google Discover. It offers amazing opportunities for those who know how to take advantage of all of its features.
Trust me, this tool's potential is huge. Without major optimizations and efforts, our blog has reached more than 50 thousand clicks and almost 1 million impressions in one month.
Would you like to learn about Google Discover and how to make the most of this tool in order to generate even more organic traffic for your business? Then keep reading this post until the end!
Here's what you'll learn:
What is Google Discover?
In the beginning, it was known as Google Now. Then it was renamed to Google Feed. Now it's known as Google Discover.
This tool was launched in 2018 and works as a mobile version of Google's homepage. It offers content to users based on their interests, without requiring a search.
In other words, Google Discover curates content by harnessing all the power of Google's algorithms and machine learning. The goal is to anticipate people's search intent and offer exactly the type of content they like.
In this manner, Google positions itself not only as a search tool but also as a place to discover new information.
And, it seems like the initiative has been paying off. Although Google doesn't provide exact numbers on this tool, it claims that Gmail, YouTube, and Discover have a combined total of 2.9 billion users.
How does Google Discover work?
If you're reading this text on a computer and have stopped reading to search for the tool in your browser, you won't find it. The Google Discover feature is exclusive to Android and iOS smartphones.
There are currently three ways to access Google Discover via mobile devices:
Accessing google.com on a mobile browser

Through the Google app, available for Android and iOS

By swiping right on the home screen on certain Android devices
The Google Discover feed is available in a tab called Discover, identified by an asterisk-shaped symbol.
Users can scroll the feed like other social media and the content is displayed in card format, with an image, title, summary, source, and publication date. Tapping on one of the suggestions takes the user to the content page.
In addition, above the cards, you can tap on the category to access other content suggestions on the same topic.
Most of the content displayed on Google Discover is more current, such as news published a few hours or days ago. But there's also a place for evergreen content and YouTube videos.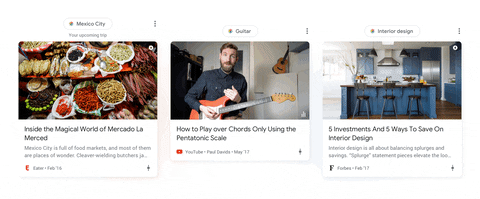 In addition, another format recently added to the tool is the Web Stories, Google's version of vertical content, which is popular on social media. These are grouped in the Stories section.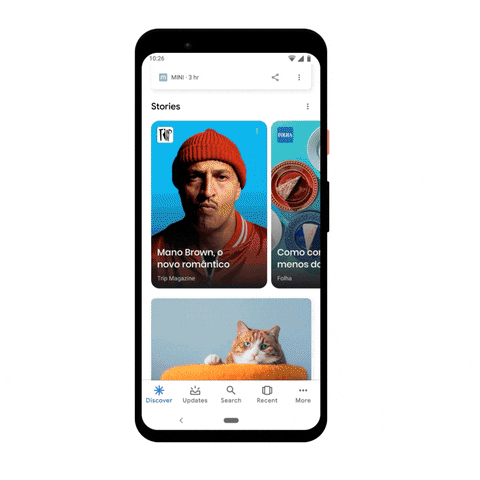 This content is similar to Instagram Stories. When users tap on one of the cards, they are directed to vertical content consisting of several images or videos in sequence.
However, unlike the image social network, Web Stories do not expire after 24 hours, allowing people to access them for a longer period of time.
User collaboration
In order to define what is or isn't relevant for the Discover feed, Google uses data related to the user's browsing behavior. This information includes everything from visited sites and search history, to location settings.
And since even the most modern algorithms can make mistakes, the tool also allows users to flag when the content isn't relevant.
Just below a card, the app displays an option where you can point out if a suggestion is useful at the moment. In addition, in settings, users can customize their experience by pointing out to Google which topics interest them the most.
What are the advantages of using Google Discover?
The dream of any marketing professional or entrepreneur is to see their content being spontaneously delivered to users, without them having to search for it. And best of all, without having to compete with thousands of other pages for a good position on the SERP.
When your business' video or blog post is displayed in Google Discover, that's exactly what happens.
While organic searches are only used when users have a question or problem, Google Discover anticipates this. The tool delivers the content to users who already show interest in that topic and therefore, are more likely to consume it to the end.
The more users access the content on your page on Discover, the closer they get to your brand and the greater the chances that they will purchase your products or services.
One proof of this is the results that this service delivers. Our blog content that's displayed on Discover has twice the click-through rate, or CTR, compared to the Google search page.
And speaking of metrics…
Optimizing content for Google Discover
As a relatively new tool, little is known about the factors that lead content to be displayed on the Google Discover feed. Brands, websites, and entrepreneurs are only now beginning to give this channel its due importance.
Nevertheless, and based on information from Google itself, it's possible to point out some of the ways that can help get your page on the search engine's Discover section:
Use

titles that summarize the subject of

the content and

avoid clickbait

Create

up-to-date content

that tells a story or provides unique information

Make the

information about the date, content creator, and publication name

visible

Use attractive, good-quality images and in formats optimized for mobile browsing,

such as WebP and JPEG XR
In other words, the main tip for optimizing content for Google Discover is to always produce relevant and quality content!
How do ads work in Google Discover?
In addition to organic content, Google Discover also displays ads targeted to users' interests.
Google Discover Ads, as they are known, look like any other content in the feed. In other words, they consist of an image, a title, a summary, and the source of the information.
The difference is in the symbol in the lower-left corner of the card that identifies that this content is paid advertisement.
To promote your content on Discover, simply access the Google Ads tools and select the Discover campaigns option.
Your campaign content will be displayed in the Discover section, in addition to YouTube's "Home" and "Watch Next" feeds, and Gmail's "Promotions" and "Social" tabs. 
Measuring the tool's results
You might not know it, but it's quite likely that the content from your website, blog, or YouTube channel is on Google Discover.
To find out which pages appear in the service's feed, as well as the number of visitors and the click-through rate they generate, simply go to Discover's performance report in the Google Search Console.
The performance report in Discover is very similar to the performance report in Search results, displaying information, such as total clicks, impressions, and CTR. Immediately below, there's a chart that shows how each of these indicators has varied over the selected time, as well as grouping the data by page, country, day, and appearance.
You can also filter the results by date, search for a specific page, and compare the performance between different URLs.
As of now, Google Analytics doesn't have a dedicated report, counting the visits generated by Discover as organic traffic.
Conclusion
Although the tool is still new and not widely known, it has huge potential. With it, your business can attract visits, gain more reach on the internet and, as a consequence, generate leads and sales.
Focused on users' interests and behavior, Google emphasizes, once again, that it's increasingly concerned with offering visual and relevant content adapted for mobile devices.
Therefore, if you want to appear in, focus on creating quality content that addresses your audience's pains, and preferably with current and exclusive information. Formats adapted for smartphones and tablets, such as videos, come out ahead!
If you want to keep your website constantly optimized for search engines, make sure you read our post with our 7 SEO tips to help you generate more traffic to your pages.