9 Programs to Create Awesome Video Intros
Engage and retain your viewers!
Even if you're just getting started with video production, you have probably seen or heard about video intros and have wondered about the best intro makers or the best intro-maker software.
Video intros are short clips used to identify your channel, brand, or online business. They usually include a visual layout and music.
The biggest problem with video intros, however, is that many people believe they're expensive to make due to the need to hire expensive professionals. Additionally, having to hiring someone can slow the process down. That's a major problem for brands capitalizing on newsworthy topics or "newsjacking."
This kind of thinking can prevent brands from reaching their goals. In addition to making your material more professional looking, a video intro helps establish your identity.
The good news is that you can create your video intro without a lot of effort or investment by using the best intro maker software for YouTube videos.
Today, we're presenting nine programs you can use to produce a video intro. Check them out and decide which is best for you.
VIDEO: The 10 Best Apps For Recording And Editing Video
Why should my videos have an intro?
It's true that not everyone who creates video content uses video intros.
Many people believe that they aren't needed; others don't know how to create them or think they are expensive, but video intros are very important for audiovisual content.
A video intro is the first impression that your audience will have of your channel. This intro conveys the feeling that your video, channel, or business is concerned about the details, that it has personality, and is professional. After all, not everyone uses them, so they end up being a unique feature.
But not just any video intro will be pleasing and will convey everything we mentioned above. You need to keep some things in mind.
What to consider when creating a video intro
The maximum length suggested by experts is 5 seconds.
It should be a presentation of your channel and the content you produce.
Choose the style and elements of your layout carefully; keep them in line with your visual identity.
Invest in the look. The video intro must be attractive and dynamic to grab the attention of those who are watching and keep them watching.
Ready to start creating an intro for your videos? Then check out our list of software to help you do just that.
Tips for video intro editors
There are many video editors on the market, including programs that are available for free, as well as paid, full, and basic versions, for all tastes and skill levels. In our list, you'll find everything you need to know about the best programs for creating video intros.
1. Intro Maker
IntroMaker works best because you don't have to download any software. This intro maker tool site allows you to sort by popular video tags, such as "anime," "gaming," or "fire." Intro makers are generally centered around logos, so this works best if your YouTube channel already has a logo you can upload.
IntroMaker takes about 2 hours to render fully, but you can get a preview in just a minute or two.
This particular software claims to be the best intro maker tool due to features like hybrid sequences (text and image), title sequences, text intros, photo montages, and logo reveals.
According to Intro Maker, its most popular categories include gaming, breaking news, animated titles, and logo animations.
Intro Maker offers multiple pricing plans. If you want to make lots of video intros, you can do so for $24/month for 10 videos. If you're like most people and only need one video intro, you can get a $6–$18 option depending on the quality you need. You will not have an Intro Maker watermark with any of these options.
2. Flixpress
Flixpress is among the easiest to use and one of the most popular intro makers to create YouTube video intros.
You can use one of the 14 free templates to create your video intro and download them without watermarks.
There's also a paid version with several unique plans and features. To use it, just change your account settings and subscribe to the service, with prices starting at less than a dollar per month. Note that only expert, professional, and enterprise-level subscriptions allow monetization or commercial rights, and those start at $9.99 per month.
3. iVipID
iVipID's unique feature is that it offers several video intros reminiscent of popular movie studio intros. If you're making a spoof video or want to really emulate those studios, iVipID is the best intro maker software for you.
The graphics are pretty detailed, making it one of the best intro makers in general, but the pricing model is worth considering before you start playing around with this tool.
The free version only allows low-quality downloads with the iVipID watermark.
Prices vary between $1.99 and $34.90. The platform is quite intuitive, modern, and easy to use. Plus, unlike many intro makers, it doesn't try to lock you into a subscription.
4. Biteable
Biteable allows you to create 2D video intros completely free of charge. To do so, just register on the website.
On the other hand, it's only possible to download low-resolution video intros with watermarks.
To create high-resolution video intros without watermarks, you'll have to pay a fee that varies according to the video intro created.
Biteable's website is intuitive, easy to use, and offers several features for users interested in creating an intro for videos. Monthly pricing starts at $99 per month if you're making multiple videos. However, the extensive free trial may provide you with everything you need.
5. Panzoid
Panzoid allows you to create your video intro from scratch, without the need to use ready-made templates.
However, it's not very easy to use. You'll need basic editing and creation skills.
As a free program, Panzoid isn't as modern and up to date as the other websites and programs we mentioned above. But, it is free, and if you're truly looking for the best intro maker tool while learning video intro creation skills, Panzoid could be right for you.
6. Animoto
If you have video editing skills, you'll find it easy to use Animoto.
Animoto is geared more toward serious videos such as weddings and product sales. It allows the creation of video intros online and can be used for free. However, you can only download files without watermarks in the paid version.
It costs between $8 and $34, but if you're just looking for one or two videos, the $8/month option is a steal.
The website is complete, professional, clean, intuitive, and very easy to use.
7. Wondershare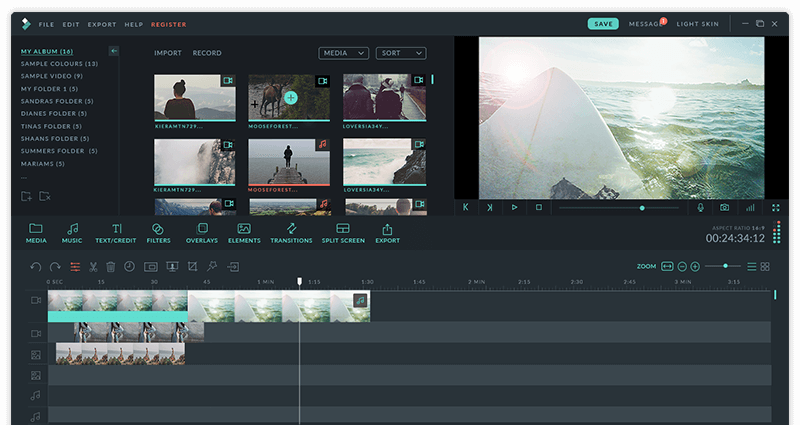 Add your texts and logos in an easy, quick, and dynamic manner with Wondershare.
It includes animated titles, badges, labels, and other options that can be matched with the background in addition to personalized music to create your video intro.
It's available in both free and paid versions. You need to download the tool's desktop or mobile version to use it. The mobile download option makes it one of the best intro makers.
But, it's a bit expensive. The lowest price is around $99 for an annual subscription.
8. IntroChamp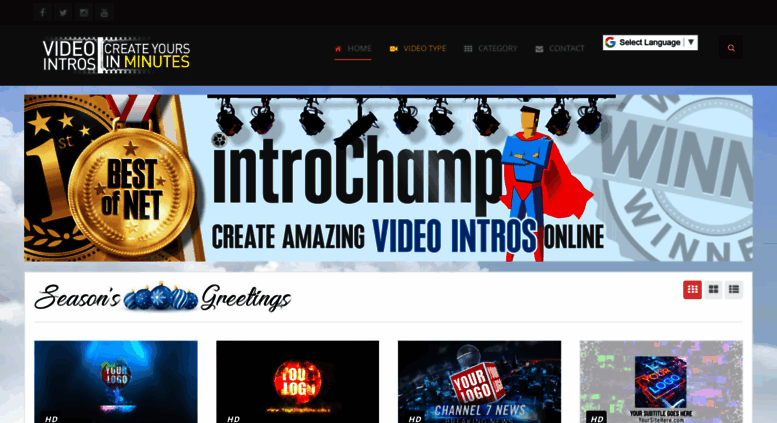 Would you like to impress your audience with your video intro?
IntroChamp allows you to create HD intros and has a large variety of editable templates for you to add your logo, text, etc.
The templates of the available options are divided by vlog category, which makes it easy to search for a theme related to your segment.
The paid platform offers prices that vary according to the chosen template, but most hover around $7.
9. Sony Vegas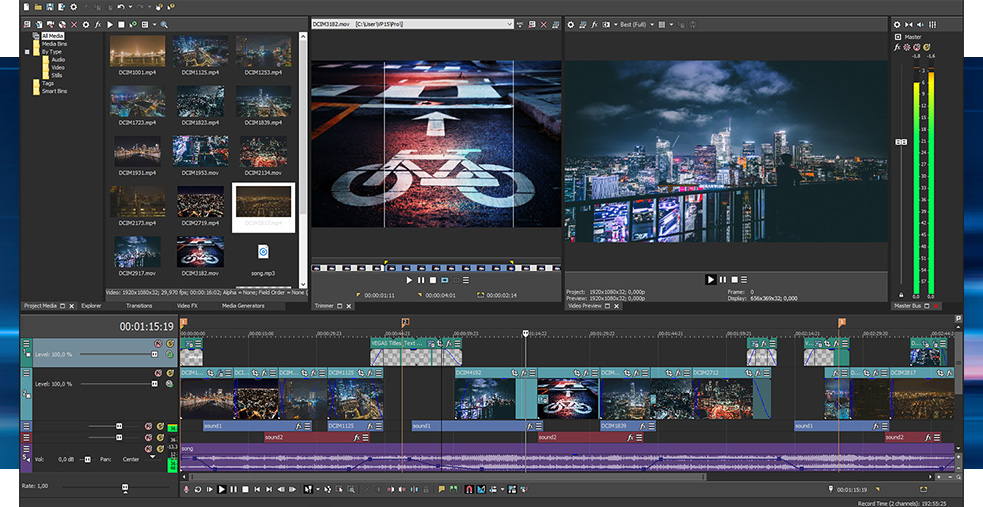 Sony Vegas is among the best-known editing systems, which also makes it one of the best intro makers. Vegas Pro offers a fully customizable interface and total editing flexibility. It allows you to edit in HD and 4K and produce videos, in addition to countless features.
Monthly subscription plans start at $12.99 per month.
What's the best intro maker for you?
The best intro maker software for your needs will depend on your channel, the quality of the video intro you need, and your budget. Many of these intro makers are more gaming oriented, while others might work better for established business videos.
VIDEO: How to make more professional-looking videos with your home studio

Just like your video intro, the image that draws attention to your video is also important, and there are strategies for creating good thumbnails, i.e., cover images.
Check out our post about how to create an amazing thumbnail for your videos. You can also learn how to enhance your videos with the top five special effects programs and apps.