Registering a Domain: A Complete Guide on How to Register a Website
Having your own domain is important to give more authority and professionalism to your business. Check out the steps we've prepared.
Today's entrepreneurs need an online presence to showcase their brands. The pandemic was a game-changer for brick-and-mortar establishments. They found themselves scrambling to register a domain and looking for other ways to stay afloat financially. They wanted to remain relevant to their customer base by selling their products and services online.
If you are unfamiliar with creating websites, you might choose some basic "add-water-and-stir" website builders like WordPress. There is nothing inherently wrong with WordPress, except that using it for your domain is a bit like having AOL for your personal email address. It's unprofessional. Industry leaders want to customize their domain addresses to reflect their brand's originality.
Common domains like WordPress were originally designed for those whose posts weren't intended to reach large, global audiences where products and services thrived in lively marketplaces of ideas.
WordPress and other free website builders have basic templates and handy tools to employ. But at the end of the day, your webpage will still have the domain name "wordpress.com."
Fortunately, there is a workable solution to the dilemma — register a domain you customize yourself. The process is surprisingly simple. You will wonder why you ever lingered so long in the land of WordPress.
Below is some important information for budding entrepreneurs who are ready to upgrade their companies' domain names and take their brand awareness to the next level. Follow these steps for suggestions to get the best domain registration to suit your needs and not bust your bank account.
What is a domain?
A domain is an address that identifies the online presence of a business, brand, or person. Every domain consists of a name and an extension:
companyX.com
Name: companyX
Extension: .com
For instance, Hotmart's website has the right to use the domain name hotmart.com.
What is the difference between domain and hosting?
This is a common question among many digital entrepreneurs. The domain is your business's online name. When your targeted audience seeks your website, they use search engines or type your website address into the search bar. This directs them straight to your site 24/7/365.
Now that we have explained the basics of domain registration, let's turn to hosting. What does all that entail?
Your domain does more than simply identify your corner or the worldwide web. A powerful computer in another location (sometimes "in the cloud") is the server that retains all the data from your website. Servers are the hosts routing all your website traffic to your site. They also have security protocols engaged to protect your customers' data from hacks and breaches.
Why do you need to register a domain?
Domain name registration should be done as soon as you can do so to preserve that unique name. Otherwise, your competitors, individuals, or other business entities can purchase these domain names. If they happen to choose the one you plan to use, you will miss lots of misdirected traffic to another site's business.
Below are examples of web pages that don't use their own domain names. They include:
www.mysite.wordpress.com
www.yourbrand.blogspot.com
www.mybusiness.wixsite.com
Platforms like WordPress allow anyone with the time and inclination to create a website without the need to register a domain. By doing so, these platforms "lend" you an address. But this makes your website appear amateurish, damaging your brand's image.
There are additional advantages to registering a domain:
Credibility and authority – Having your own domain shows that your brand is serious and trustworthy. Those accessing your webpage will note the company offers a safer web-surfing experience for clients and potential customers.
Promotion – Promoting a blog or website with a simple, straightforward domain is easier. Moreover, your audience can memorize your address more easily. The next time someone who has seen your promotions needs a service or product, they may turn to your company directly for their purchasing solutions.
Search reach – Google and other major search engines give preference to websites with their own domains. Just by registering a domain, you have a better chance of appearing on the first page of search results.
You get your own email address – Another benefit of having your own domain is the email addresses are personalized with your company's name, e.g., email@yourcompany.com. This small detail gives your work a more professional touch and makes it less likely to be targeted by hackers. Having a branded email address also gives clients confidence that they are dealing with a reputable merchant or service provider.
Brand protection – Anyone with interest and money can buy domain names and register a domain with their brand's name. But customers searching for your site can wind up misdirected. This trick is quite common in politics during election cycles. But potential customers resent this blatant bait-and-switch tactic. When you register a domain, it protects your brand and ensures your company's standing and online reputation remain intact.
Low cost – Contrary to what many people think, owning your own domain is inexpensive. Prices start low and go up incrementally, depending on the services selected to help you run your business.
Register a domain: the best platforms
Below are six of the top domain registrars for 2023.
1. HostGator – This site remains a top choice in the domain-hosting industry. During your first year with them, hosting is free — a hard deal to beat. If you need help migrating a site that's already up and running, HostGator migrates a single, free domain transfer, including your files, databases, and other information.
2. GoDaddy – This site has stood the test of time. It also has name recognition, which is an important component of trustworthiness. They offer websites and marketing packages to suit every budget.
3. Ionos – Small and medium-sized businesses can find a good home with Ionos. They won't be overwhelmed with more technical widgetry than they need for their business purposes.
4. Wix – They have both the web presence and the tech support to get any business off the ground and develop a lucrative online presence.
5. Bluehost – This is another site offering a free domain name for the first year of your sign-up. You also receive an SSL certificate for no charge. Along with their 24/7 support team ready to work through any issues with you, their one-click install makes it simple for even the most low-tech content creators and entrepreneurs.
6. SQUARESPACE – They offer a free trial to let you see whether they will be a good fit for your business. After the trial, you do have a fee to pay, but you get locked in at that rate and don't have to worry about annual costs rising. The company is transparent about its rates and doesn't have those bothersome ads that turn off so many clients.
Domain registration steps
Before you can register a domain, you have to first search lists of domain available names. As of last year, just by the end of the first quarter, more than 363 million domain names had been registered with top-tier domains.
After completing the domain name search, you can secure your best choice using the following steps.
Registering a domain with other extensions
There are several types of extensions available on the internet, but the most common and the one most recommended for businesses and entrepreneurs is ".com." Choose an extension that makes sense for your business model, e.g., using ".edu" for online courses that you offer or ".org" for your nonprofit that shelters homeless pets.
Additional services can personalize your domain further. Popular hosting services can also run checks on potential domain names. If none of your choices are available, the hosting services provide auto-suggestions of related names that might work well with the products and services you offer your clients and customers.
Once you choose an available address, the series of instructions can guide you painlessly through the project.
Finished? Use the hosting tool, enter the requested information, and pay your fee. You are now on your way to creating content that pops and drives increased traffic to your online store. Now, get back to work as the money rolls in.
Choosing the perfect domain name for your website
Choosing the right name from the domain seller is just as important as registering the domain. The wrong name can jeopardize your branding strategy, risking your brand's authority and trustworthiness. Put lots of thought into the choices you make regarding your website domain.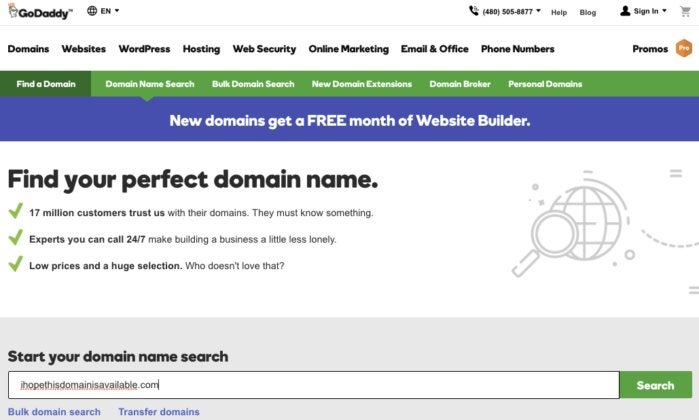 When choosing a domain name, take all appropriate precautions like those listed below:
Avoid using symbols and numbers
Short domains are preferable but should still provide information about your website
Insert your brand's name into the domain
Avoid addresses containing names of other brands
This necessary process for your business is not nearly as difficult as many budding entrepreneurs anticipate it will be. People from all walks of life have learned to go digital with their marketing efforts. You don't have to be a techie to make this work well for you and your online business.
Think of your domain name as your digital business card. You want it to represent your brand and avoid any scandals or copyright infringements. By engaging professional services, you can sidestep the pitfalls that can occur when you simply start using a name without first resourcing its ownership and history.
Make sure there are no unsavory or lewd connotations to your chosen domain name. That could misdirect all the wrong traffic to your website. Nobody wants that negative attention!
You can purchase domain names
What happens when your perfect choice for a domain name has already been purchased by a different buyer? This happens more frequently than people realize. Investors buy large groups of domain names to resell them later for a profit.
Sometimes, domains go dormant. Their owner may have closed up shop, lost interest in the project, gotten too ill to continue managing the website, or have even passed away. You still might be able to purchase it from the web hosting site (or even the former owner's heirs if digital assets were a part of the decedent's estate plan).
Like it or not, that's capitalism at work. If you want a certain domain name, you can negotiate a purchase from the seller. If the domain owner already has a business up and running with that name, it is less likely that you will be able to agree on the matter. But you never know, so if this is important enough to you, make the effort to reach out.
Even if that doesn't turn out as you had hoped it would, remain positive. Put your creativity cap on and begin tossing around new ideas. Thinking outside the box could lead you to a superior domain name that is an even better representative of your growing brand. Never let anything stand in the way between you and progress toward your dreams.
When the sky is truly the limit
We are deep into the era of eCommerce. While the pandemic may have pushed us collectively to embrace online shopping and service provision, we have been marching toward that destination ever since the earliest beginnings of the World Wide Web.
Just because you might not have gotten in on the ground floor of that first eCommerce wave doesn't mean that you and your business have to stay sidelined on the shore forever. By using Hotmart, you can quickly learn tips on building, monetizing, managing, and growing your business.
Once your domain is registered, publish some content to increase your sales and generate your website traffic. Out of ready ideas? That is OK, too. We have teams standing by, ready to assist you with any problem or challenge you might have.
Once you are ready, check out our complete post for the best tips on how to produce quality web content. No more excuses! Today is the day your business gets the helpful boost it deserves to help you reach all your sales and marketing goals for this year and beyond.